Sadly, the Mond's family lost their 17-month-old baby girl Avah Simone due to unexplained heart failure soon following surgery. No grieving family should have to worry about money. Their family of eight needs our help!
One of the most difficult parts of a tragedy is the financial burden it places on a family. This family is a large family of eight and although they live particularly humble, we all know how hard it can be to overcome such unexpected financial hardship. In the months to come they will need tons of support to overcome this tragedy.
While the Monds family is trying to deal with Avah's death, it is apparent it has taken a huge toll on the family. Her passing away was not only unexpected but also extremely shattering to her parents and siblings who lived a very close-knit family oriented lifestyle in the small town of Gray, Georgia. Due to intense grief, it has been difficult for their return to work. This continues to cause them financial burden. But how do we put a time on grief? The parents are not only dealing with their own grief but the grief their other five children are experiencing. The siblings need tons of care, special attention and therapy; specifically their beautiful six-year-old who saw her baby sister as her best friend.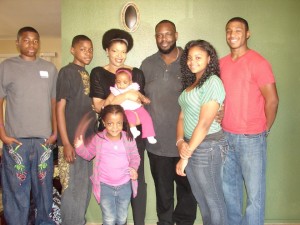 Stephanie Monds has worked as a nurse for nearly 20 years. She is always giving back to those in need. One of her highest held accomplishments was working in the Neonatal unit at The Medical Center of Central Georgia where she ironically nursed babies back to life on a daily basis. Her kind heart and spirit overflowed into her work as she took special care in assuring parents their babies would always be safe in her care. Her love for children certainly overflowed into her home life as she and Rodney are raising six children. Avah Simone was their youngest.
Rodney Monds is known throughout Gray, GA as "The Neighborhood Dad". He takes pride in reaching out to youth who are living without the direct care of a father. He mentors them on school, behavior, and life in general. Certainly, his presence in their lives has helped shaped the lives of many children especially the many African American males who look to him for guidance. Before becoming a full time stay at home father, Rodney worked with troubled youth.
My best friends Stephanie and Rodney Monds are humble and proud people and feel they can withstand the hardship on which they now face. Yet I believe those of us who love them can make that even more possible. For that reason, as Avah's God Mother and best friend to her parents, I am asking that you please find it in your hearts if possible to take a moment to make any size donation to this family in need.
If you would like to make a donation, please visit Avah Simone's Fundraiser page below.
If you need further assistance donating to the account, please contact Lolita Johns at LolitaJohns@live.com.
All inquires will be answered. Thank you.